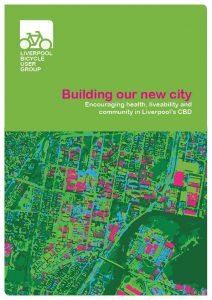 We've made a detailed submission to Liverpool City Council in response to their vision for Liverpool as a vibrant regional city of opportunity, prosperity and diversity.
We think that transport is one of the key elements of realising this vision. But doubling the numbers of cars on the road will make the city noisier, increase air pollution, make the streets less inviting places to eat and shop, and make moving through the streets slower and more stressful.
Even a relatively small increase in the mode share of active travel can lead to positive outcomes for Liverpool's transport system, environment, health and liveability.
Our submission looks at what is needed in Liverpool to encourage more people to cycle for transport.
Building Our New City: Bike Liverpool Response