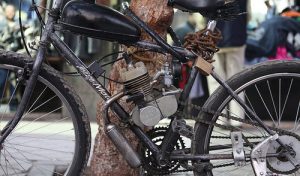 From 1 October 2014, petrol-powered bicycles will be banned on NSW roads and road-related areas such as footpaths, shared paths, cycle ways and cycle paths. The ban will include bicycles that:
Have had a petrol-powered engine attached after purchase
Were bought with an attached petrol-powered engine
Are powered by any type of internal combustion engine.
The ban does not include:
Regular bicycles with no engines attached
Complying 250 watt pedelacs
200 watt power assisted pedal bicycles that have an electric motor.