Our annual 2017 Christmas Lights Dinner Ride is on again on the 8th of December 2017.
There is no better way to experience the fantastic light displays that Chipping Norton, Georges Fair and Wattle Grove have to offer than by joining Bike Liverpool for a night that is enjoyed by all those that attend year after year.
If you have the time (and it's not a requirement) embrace the spirit of Christmas by decking your bike out with some form of lighting or decoration, our suggestions from what has been done over the years is below.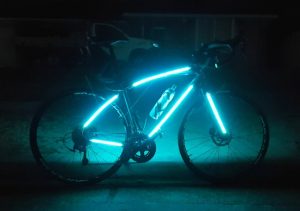 Tinsel.
Christmas Lights.
EL Wire
RGB Light Strips.
Glow Sticks
Anything else which glows in the dark!
NOTE: It's mandatory that you have a charged set of functional front and rear bicycle lights.
But! It wouldn't be a dinner ride if there was no grub… right? So, to that end we are going heading to Enzo's Cucina at Chipping Norton for some delicious Italian, and if that isn't your style they do wonderful wood fired pizzas!
Convinced and would like to join us? Please RSVP by the Tuesday the 5th of December by contacting Maree on (02) 9602 5293 or 0419 203 379.
We look forward to seeing you on the bike and remember everyone is welcome to come along including families.
Bookings are essential!
---
Friday Dec 8: Christmas Lights and Dinner  Ride at Enzo's
Grade: Easy
Start: 06:00 pm. 25Km.
Location: From Liverpool Railway Station. (Bigge Street entry).
Description: Enzo's at Chipping Norton Market Plaza, 9 Barry Rd & Ernest Ave, Chipping Norton. Come and enjoy Italian cuisine and then ride around the local streets discovering the delights of the Christmas decorations on offer. Decorate your bike and your elves with the festive season in mind. As with all night rides, you must have working lights for the front and rear of your bike – but on this occasion you really can't have too many lights.
Call to confirm essential for bookings by Tuesday 5th.
Contact: Maree 96025293 or 0419203379.
---